Holy week and Easter
Holy week again this year feels different – so here are a number of resources that you can make use of at home and with family
As we prepare for Holy week take a second to check out – The parable of the pencil
Why not create a prayer space in your home for Holy Week – Create a Holy Week prayer space at Home
What happen in Holy Week? for our younger parishioners here are a few helpful resources – The Story of Holy Week for Children, The-Easter-Story-in-Plain-English, what happened holy week
And with a little more detail for yourself – A Walk through holy week
Here's a few practical and prayer ideas for Celebrating Holy week at home with your family – Celebrating Holy Week at Home Booklet 2022 1
Here is a resource for young people as they journey through Holy Week – Journey Through Holy Week – Young People
Here's a few things especially for Good Friday – Good Friday – Hot Cross Buns Prayer, The Sign of the Cross
And to celebrate the new Stations of the Cross that are now in Rathcoole Church here is a new 'Stations of the Cross' written especially for them – Rathcoole Parish – Station of the Cross
Here is a resource for Children for Easter Sunday!! – Easter Sunday Inspector Snoop
Why not print out, cut out and give a small gift to friends and family!! – Saggart Village Easter Prayer Bookmark
Daily scripture calendar with a thought for the day from Easter to Pentecost – Walking the Path to Pentecost Scripture Calendar 2022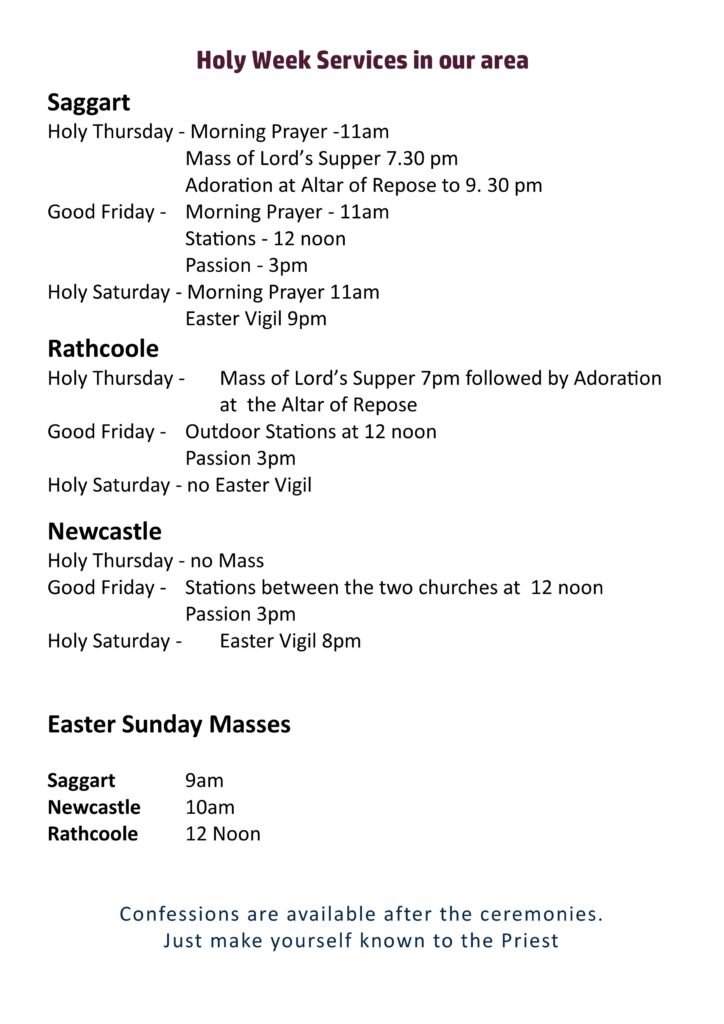 Lent is traditionally a time when we take stock, notice, set right and prepare for Easter. It may be a little different this year as we are coming out of Covid but its a time when we try to set aside a bit of time for ourselves and focus on things that matter. Not all of us do this the same way or at the same speed but it is a journey, not an event, that we all travel together.
To help you with this we have prepared a number of FREE resources for all ages, tastes, approaches and backgrounds that we hope will aid you on this journey. You can connect with others, engage and journey Lent with the support others and share them on to others Feel free to share the invite, download, print and share on any that you find useful and have a great Lent!!
Something Different for Lent 2022 – Gift yourself a bit of time for yourself this Lent. This is a DIY retreat booklet of prayers, suggestions and activities that you can do at your own pace, in your own time. Do it by yourself or why not share it with friends/family and check in with each other once a week to support each other and see how you are getting on.
As we move out of Covid some many still have concern about attending for the distribution of ashes – Collect some ashes from your local Parish Church and you can do this Ash Wednesday – A Simple prayer for home for distributing ashes
The three pillars of Lent are Prayer, Fasting & Almsgiving – This is a little reflection on these – 3 Pillars of Lent
2 suggestions for Families – MAD 40 Acts of Lenten Kindness 2022 – Family Wall Chart or Lent Families 40 Days of Joy – spread a bit of Kindness and joy this Lent
Calling all Photographers! – Will you try the Lenten Photo a day Challenge 2022? Whatever your plans this season, from Ash Wednesday, will you join this Lenten photo-a-day challenge and share with the community how you perceive, understand or celebrate each word of the day? Just share your photo. No explanation needed. After all, a picture is worth a thousand words. Share on social media & tag us on your photos with #LentPhoto
For Knitting enthusiasts – Here's a fun Lenten focused Project for you to try on your own or get a few friends involved – Knitting pattern for the Last Supper
Why not use this Lent to be more Eco-Friendly here's a few challenges and ideas for you – Lent Carbon Fast 2022, Children's Lent Carbon Fast Ideas 2022 or can you take up our Plastic free Lenten Challenge
Hearing, Happening & Hoping – A focus on the scriptures each week of Lent – Spend a bit of time with it for yourself or maybe share/meet to discuss with family and friends – HHH Lent 1 2022, HHH Lent 2 2022, HHH Lent 3 2022, HHH Lent 4 – 2022, HHH Lent 5 2022
Enjoy and feel free to share and let us know how you get on!!