We are extending an invite to all in our parishes (those involved in our Churches and those not) to take part the discussions and feedback back in this global conversion. We want and need to hear you experience of church – good and bad!
You can view/download/sahre the invitation from here Synod invitation poster A4 – web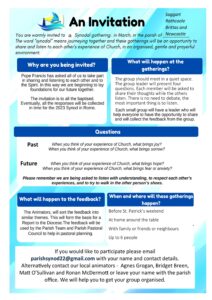 If you would like to participate please emailparishsynod22@gmail.com with your name and contact details.
Alternatively contact our local animators – Agnes Grogan, Bridget Breen, Matt O'Sullivan and Ronan McDermott or leave your name with the parish office. We will help you to get your group organised.