Over the past few months we have been involved in the Universal Church's Synodal process and we have heard of the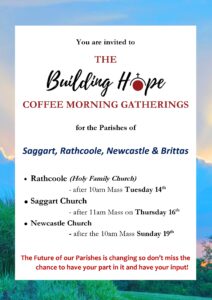 Archbishop's initiative "Building Hope".
There have been parish stats about the downward trend in numbers attending Mass, etc. in our churches. The lack of vocations is leading to significant decline in the number of priests available to parishes. We have fewer lay people taking on various ministries and leadership roles in the parish. This is causing problems.
It is not a time to be negative or despondent. The Catholic church has faced many a crisis in the past and has come through them. Pope Francis said in 2021, "Let us remember the church always has difficulties, always is in crisis, because she's alive. Living things go through crises. Only the dead don't have crises."
However, we are the ones that have to live in this present time, where problems exist in our diocese and our parishes. We are the living stones of our Church! But there are not enough of us. And you know what happens when blocks are made of clay – or pyrite that is so much in the news these days – it crumbles and falls.
So now it is time to hear from ourselves –  The parishioners…
What do we think?
Is our parish viable in terms of the number of people attending plus the significant downturn in finances which has just reached a point where our expenses exceed our income?
Can we sustain the future?
Do we want to and if so what do we need to preserve the future as best we can?
What is the future we would like to shape and how can we move forward towards that by the steps we take today?
Do we need to engage with other neighbouring parishes and pool resources?
If so with which whom do we align ourselves?
We would like you to have your say and to be involved – We are holding a number of discussion mornings next week and would ask you to make at least one of them to give us your views on the future of our parishes.
If you wish to download, PRINT AND FILL OUT our grouping questionnaire SRBN Building Hope Questionnaire
You can bring it with you to one of the discussion meetings or drop it into one of our local churches, the parish office in Saggart or email it to saggartparish@gmail.com – before the Sunday 19th June  – we'd love to hear from you
Rathcoole (Holy Family Church – after 10am Mass Tuesday 14th
Saggart Church – after 11am Mass on Thursday 16th
Newcastle Church – after the 10am Mass Sunday 19th
It is our parish – we have the right and duty to voice our opinion and help mold the future.
Please extend the invite and see you there